Have You Been Charged With Traffic Offenses In WV?
Traffic offenses can have serious consequences regarding your freedom and your livelihood in the State of West Virginia. If you have been issued a citation or arrested for traffic offenses in WV, it's important that you retain competent legal counsel to help protect your rights and maintain your driving privileges. The team at Taylor & Hinkle, Attorneys at Law have experience navigating WV's unique approach to traffic offenses, penalties, and fines.
We Defend Traffic Offenses In West Virginia
Taylor & Hinkle, Attorneys at Law have represented clients in cases across the board: from minor Moving Violations to costly DUI charges. Convictions can results in points on your license. This can have devastating effects on job retention and insurance premiums – and this especially true for those with a Commercial Driver's License (CDL.)
Consequences For Traffic Offenses In WV
Any amount of points on your driver's license can result in costly hikes to your insurance premiums. Worse still, twelve or more points can lead to a suspension of your driving privileges: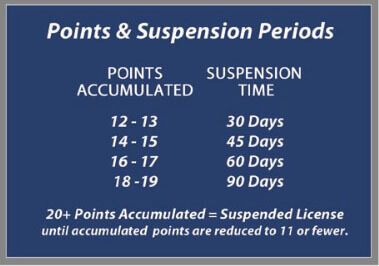 Attorneys With Experience
As you can imagine, it gets complicated. Adam Taylor and Amber Hinkle are experienced litigators, with cases ranging from minor Moving Violations to DUI. If you've been charged with a Traffic Offense in WV, make sure you're represented by competent counsel. Call us today for a free consultation.